***Our Olaplex vs SmartBond Experiment***
For the past 5-6 weeks we've been testing out this new product from L'Oreal called
#SmartBond
. We'll be honest we were skeptical, thinking this was an Olaplex wannabe. How could it compete? We have used it on all hair types from Asian to Indian and everything in between. One word....WOW! Everyone here agrees that, in our opinion, #SmartBond works a lot better than Olaplex on Asian hair. From stand alone treatments, to using it with lightening products to achieve blondes, or just simply using it with any semi or permanent colours, the hair feels so much softer and looks so much shinier.


Olaplex - NO MORE BREAKAGE! NO MORE DAMAGE!

Push your colour lighter and brighter.
Have stronger and healthier hair, that holds colour longer.
The revolutionary product that prevents damage like you have never seen before.

WHAT IS OLAPLEX?
Olaplex is a in salon treatment. What it does is to reconnects broken disulfide sulfur bonds in the hair during or after color services. Bonds break because they are exposed: to chemicals in color; from heat; and tools (such as combing wet hair). Olaplex can be used for in any chemical services such as highlights, single color processes, bleach and tones, toners, glazes, keratin treatments, perms, and relaxers. This product maintains the strength of the hair strand. You can lighten multiple times in one session and not compromise a client's hair. Without this product, hair can be severely compromised when lightened multiple times. The benefits of Olaplex are that it can prevent and restore damaged colored and chemically treated hair and enhance color vibrancy. Olaplex is also free from ingredients such as silicone, oils, aldehydes, parabens, and glutens.
Luka Hair Studio has introduced olaplex into our salon and we love it!



THE ORIGINAL BOND MULTIPLIER
The ORIGINAL chemistry that multiplies bonds and cross-links broken bonds. There can only be one!

We started by finding two of the world's leading PHD's in Materials and Chemistry that had never worked on hair products before, Dr. Eric Pressly and Dr. Craig Hawker. With this fresh outlook, this dream team invented a single ingredient chemistry, that is free of silicone or oils, that links broken bonds in the hair during and after chemical services making them stronger than they were before. It may all sound like the same old mumbo jumbo, but check out what top colourists are saying about Olaplex all over social media. As they say, the proof is in the pudding.
SO SIMPLE TO USE
Olaplex has been tested on virtually every hair type and it works. Asian, Caucasian, African American, previously chemically processed and virgin. There are no ends to its talent.

You start with the Olaplex Bond Multiplier No.1 by adding directly into lightener or colour. After rinsing colour from hair, you apply the Olaplex Bond Perfector No. 2 for a minimum of 5 minutes then rinse, shampoo, and condition. You can even leave it in the hair to use as a cutting lotion. The client takes home the Hair Perfector No.3 to use once a week to further strengthen hair. It's really simple, safe, and non-toxic. See packaging for detailed directions of use.
LONG TERM EFFECTS
Everyone wants to know if Olaplex builds up in your hair making it difficult to colour or lighten after several uses. The quick answer is that the hair just keeps getting better. Our testers, top celebrity colourists who have everything to lose, have used Olaplex on thousands of clients multiple times for over a year. Not one single report of anything negative. The only thing that can go wrong with Olaplex is just simply using too much Olaplex and diluting the formula that you're adding to. This does seem to happen often enough for us to mention it again here. It's a new chemistry and it requires thinking a little differently. But it's so easy...
The benefits

of OLAPLEX:
* Multiplies and rebuilds broken bonds in the hair during and after chemical services, making your hair stronger than they were before.
* Eliminates breakage with any color service.
* Seals damaged hair bonds.
* Keeps the integrity of the hair strength
* Multiplies bonds making hair stronger and healthier.
* Color last longer with more vibrancy and shine.
* Works on virtually every hair type including previously chemically processed and virgin.
* Free of silicones and oils.

If you would like to find out more information about Olaplex treatment you can book yourself in for a free colour consultation using our online booking service
or check out Olaplex.com for more info.
Foils Balayage vs Free Hand Balayage/Ombre
Often in our salon, we talk about why and when we use Free Hand Balayage vs Foils or Mesh Balayage, so here I explain a bit more in details: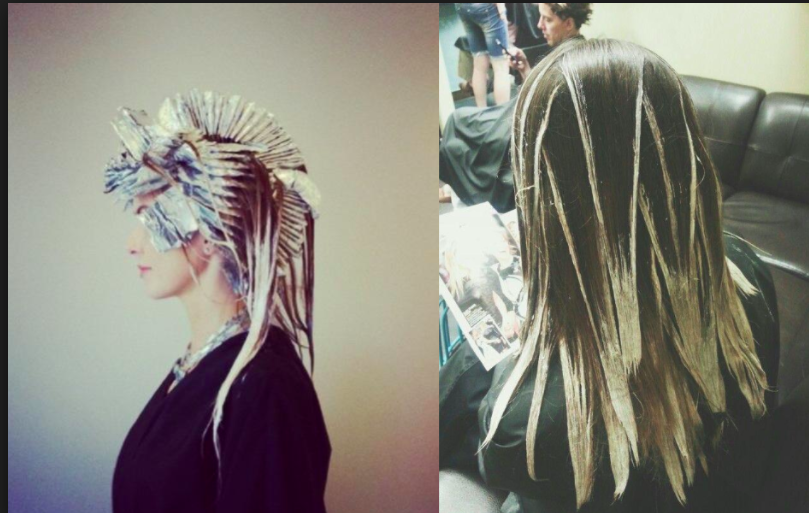 1, it's depend if we want a lot of LIFT, for example we often work with #AsianHair#IndianHair#DarkCaucasian #EuropeanHair, those different hair types can mean we have to use very different technique, for the maximum lift, we want to use Balayage/Ombre technique with foil, because foil help to transmit scalp heat/temperature onto the foils, so we have more even temperature from root to the ends of the lightening hair piece, we get a better lightening results.
On the other side, if lifting is not our first priority, but blending or creating flow and texture is what we trying to achieve, then free hand or also known as free hand hair colour painting would be our best choice in this scenario.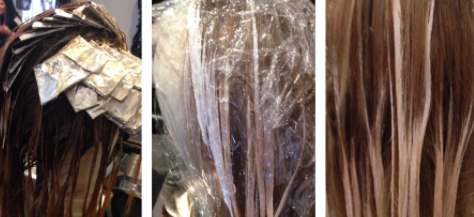 2, Which product we are using for the colouring service?
If we using powder base lighting product vs cream base lightener or we are using clay base lightener.
For powder base product, we alway use foil to avoid any blending, especial when we use Olaplex No.1 with it, to minimum our hair damage, and avoid hair breakage from lightening service.
For cream base we have the choice to use foil or free hand, it's depends on if we want more control of colour dimension, so we can use either technique.
For clay base lightener, you want to always use free hand or a meche, because we found using foil with clay base lightener you would just end up in a mess, and not getting your balayage texture and flowing the natural finishing.
3, Hairdresser personal preference- that's very importance to0, as different hairdresser feel more confident and comfortable using both or either of the technique. We always want to listen to the specialist for their opinions.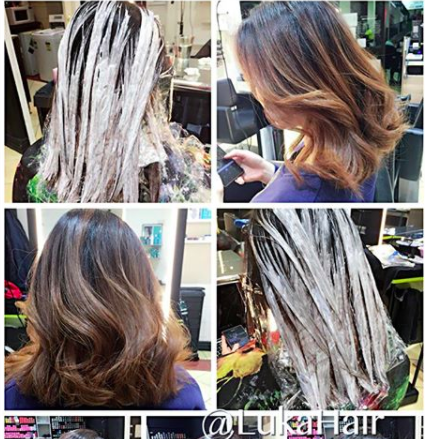 Finalily, communication is still the key for best result, the communication between client and your stylist, the communication between colourist and the brand of product they use, but we do recommend to try both and train yourself to master both of those technique will have you Balayage/Ombre journey a lot better and easier.